Rose and Kamarul's Wedding Ceremony
The ceremony was held last night at the grand Selangor Royal Club at about 9pm. The weather was wet, it was drizzling and unfortunately I got lost in the middle of the town before finding the place which I have never been before.
Rose is my friend, my ex-classmate from CBN school. Who could believe a girl who always crack lousy jokes and love to poked around while teacher was teaching in front is now officially Kamarul's wife. She was only able to control herself during the first 2 hours of the ceremony, and right after the event ended at 10pm, she's back to her old self….cracking jokes all the way down the hall.
The bride and the bridegroom walked down into the ballroom.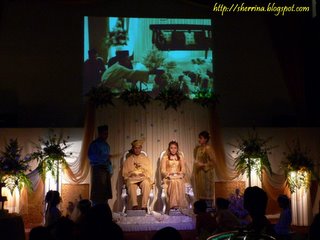 The beautiful couple on the pelamin while a creative slideshow was shown at the back. I really like the idea of including a short videpclip on how they met and why they like each other. So cute.
Cake cutting ceremony which is also part of the event. I think Kamarul has a bit of look like Norman KRU. Many of us thought it too..
The couple moving towards the club's entrance to said goodbye and thanks to the guests.
As usual, group photo is a must.
At the stair pon orait. (I think it's better coz semua bleh squeeze in nicely)
Full photos can be obtained at my Fotopages. Click here.
I also did happened to have a few free hours in the evening at the office after the computer camp and took the time to refresh my skills on Windows Movie Maker.
For those who CBNers who would like to obtain the videoclip, please send an emaill to me and I shall forward it to you.