Minggu yang busy bangat. Seminggu ni diperuntukkan khusus utk pengurusan Jubli Perak. 15 hari je lagi tinggal and masih banyak perkara perlu dibereskan. Isnin lepas ke Teluk Panglima Garang utk bincang ngan abg Top mengenai akaun Ansara Terendak.
Hari selasa pergi ke Putrajaya untuk mengendalikan kursus Microsoft Access dan malamnya meeting di Restoran Intai-Intai.
Hari rabu pagi ke Pavilion jumpa abg Madhi, batch pioneer yg dah nak balik semula ke UK. Then gi Kota Damansara jumpa kak Iekan utk pilih embroidery t-shirt Jubli Perak and petang ke kilang percetakkan utk bincang mengenai percetakkan majalah Jubli Perak
Khamis gi Melaka utk meeting dengan maktab dan pihak Kem Terendak. Lepas meeting, ke MITC utk sesi food testing (yummm!) dan melihat ballroom dimana majlis akan berlangsung.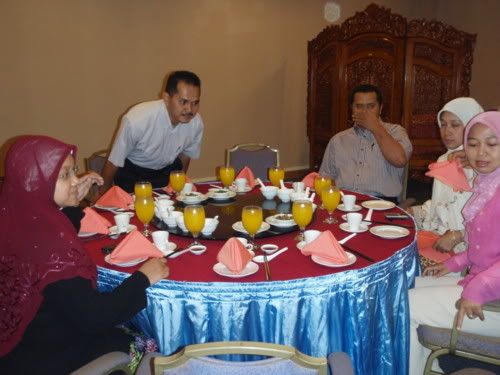 Jumaat pagi bangun kol 11 pagi sebab keletihan then petang ke kilang percetakkan untuk lihat progress. Nasib baik abg Azmi yg drive. Malam gi lepak makan dengan kak Aidrina just to wind down and gi kedai buku cari kertas menarik utk dibuat kad bagi mereka yg sponsor guru.
Sabtu hari untuk berehat (tapi sambil tu menguruskan juga Jubli melalui sms and now melalui email). Oh ya…jalan2 di Jalan TAR shopping. Sibuk menguruskan Jubli sampai lupa baju utk dinner. Nak pakai baju kurung, yg ada cuma baju kerja. Nak tempah, mana cukup masa. Pegi ke Jalan TAR dan jumpa kedai First Lady. Ada baju yg cun sgt dan yg penting, muat dengan Sherrina (beli readymade baju ni mmg nightmare). Mula2 mcm gigil gak nak bayo RM119 rupanya diskaun..cuma RM79. Then cari tudung utk match. Kasut plak takde saiz (duh!) and handbag keje dah hancus. Ntah ada masa ke tak nak gi beli…huhu…
Ahad lepak di sebelah siang (harap2 sempat gi tgk Kungfu Panda) dan malam esok meeting Jubli.
Exhausted….but fun 🙂