My parent received two days stay at Selesa Beach Resort (previously it was Regency). We went there on Sunday and came back today. Nothing much to do except swimming in the swimming pool. The town was quiet, not many people visiting this place at this time (even though it is school holiday). Probably because of the slow economy, high petrol price and toll, and also parents keeping aside money for school which will reopen in January 2006.
Some pics taken during the two nights stay.
It's a beautiful day. Bright and shine.

Let's play beach soccer….

God knows how much I hate this when staying in hotels (except Berjaya hotels. They are the best. Even allowed my mom to swim with long skirt). Thanks to my mom who had to marched to the manager's room and seek for explaination. In just 2 minutes, the assistant manager who was in charged quickly allowed us to use it even wearing shirt and pant. Gosh, it's so good to be able to swim in a pool again after so long.


It's only 5 feet deep. Not fun to swim when your toes can touch the floor.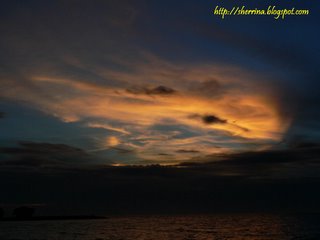 Is this what they called as horizon?

We had lunch at the Admiral Port Dickson club where many boats can be seen at the dock. One of it owned by one of Tun Mahathir's son which he hardly use at all. This boat cost at leat 100k and the price range from 100k to 2 million dollar. It's not cheap to own this and to maintain this babe.


We don't have to consume it to learn about it. I enjoyed learning various type of liquor and what they made from, from the bar man behind there. He knows a lot. From beer to wine, from Jim Beam to Martini, each information is at his fingertips. Even he was sent to Singapore to undergo training on liquor alone.

ahooii there, just arrived from Auckland, New Zealand.
As usual, full photos can be found in my fotopages.