Majlis Perkahwinan Murni & Fadhli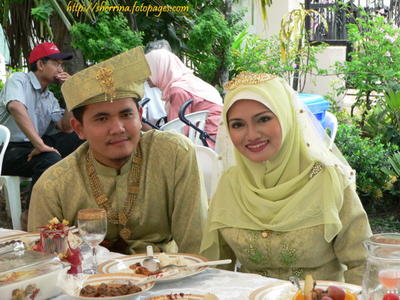 Hari ini berlangsungnya detik bersejarah bagi member gua, Murni ngan pasangannya Fadhli setelah letih bercinta selama 7 tahun (iye ke…aku agak2 aje ni). Pasangan pengantin diarak dengan paluan kompang dan kabonye siap ada silat lagi….silat pulut gamaknya. Aku ngan geng2 tak ke depan coz panas (cair make up, kata aishah). So, sambil dok bawah khemah, sambil makan sambil bertukar2 story-mory the morning glory mengenai hal-ehwal budak2 CBN yg lain. Kali nie tak le sekecoh macam kenduri2 yg lain. Maybe sebab tukang kecoh no 1 (sapa lagi, si Yati tu le….Yat) sibuk shooting entah kat mana. Lepas abis bersanding dan makan beradap (letih makan cara nie, confirm tak kenyang), pengantin masuk untuk bersalin pakaian. Kitorang amik kesempatan bergambar kat pelamin dan kemudiannya dijoin oleh pengantin perempuan sendiri. Pengantin lelaki entah dimana….
Kali nie, senarai yang hadir adalah seperti berikut: aku, aishah, mazlina, mas(pengepit…oppss..pengapit Murni), Halimatul (duduk dekat melawati aje, tapi cuma jumpa masa kenduri), Ann, Nik, Azie & Novan, Kelly & Mad, Rina, Maya, Su, Shereen, Sarina, Putri, Juita dan Fari. alamak…ada ke yg namanya tertinggal? Rasanya takde kot..al-maklumlah, muka2 nie le yg dok rajin pegi kenduri kawin. diri sendiri ntah bila nak kenduri…wahahahahaha….
p/s: To Awin yang tak dapat datang sebab kursus induksi….rugi lah ko terlepas byk gossip2 hangat..wahahaha !!!!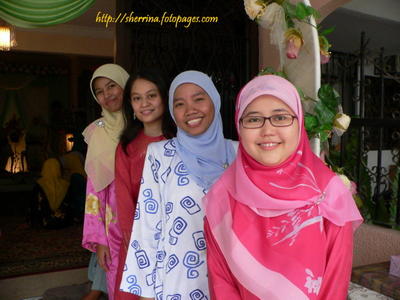 Huda, Nik, Ann and Azie…aku heran nape dorang segan bebeno nak amik gambo kat dalam umah depan pelamin. Just nak gambo pelamin sipi2 aje….macam-macam….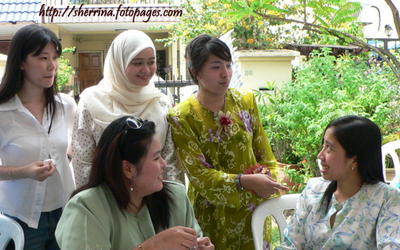 Gossip apo plak nih? Undian sapa plak kawin lepas nie kott….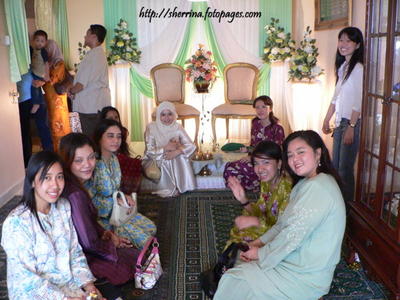 lah, sambung plak depan pelamin. ado-ado ajolah engkorang nih…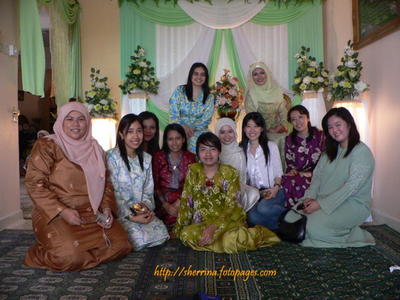 acara wajib setiap kali kenduri.